I spent hardly 11 months in Baroda but within a month, it had become my favourite city. It has so much to offer. I barely settled there (took a week to settle down the house) and I was engaging myself in various activities and hitting new restaurants. It's been 1.5 years since I left the big, little city and my mind (my taste buds, actually) still keeps going back to its food fare.
Picking a few was very difficult. But I managed to list down my absolute favourites.
Upma at Canara Coffee house
Never EVER have I had better upma. And will never. Unless I go back to India and reach CCH at 7 am. Reach there at 8 am and the upma is over. Upma is served with coconut chutney. It is neither plain salty not overly sweet. It is the right mixture of savoury, sweet and spicy. It is unmatched. M took me and E to CCH for breakfast before we headed for our first girls' trip way back in January 2012. M, a big thank you for this amazing discovery.
CCH is also famous for its Poona Misal. I love their coffee too.
CCH is a very old restaurant. it has served several generations and is said to have maintained a consistent taste. It is a legend in Baroda.
Gangaur Pyaz Kachori
Another reason to be grateful to M for. She told me once – What? You have never had pyaz kachori before? Babe, head to Gangaur. So one fine Sunday, I rushed there and got a couple of them for lunch. And I was floored. For life.
Gangaur is a Rajasthani sweet shop located on Jetalpur Road.
Mirch Masala Bhel & Jalebi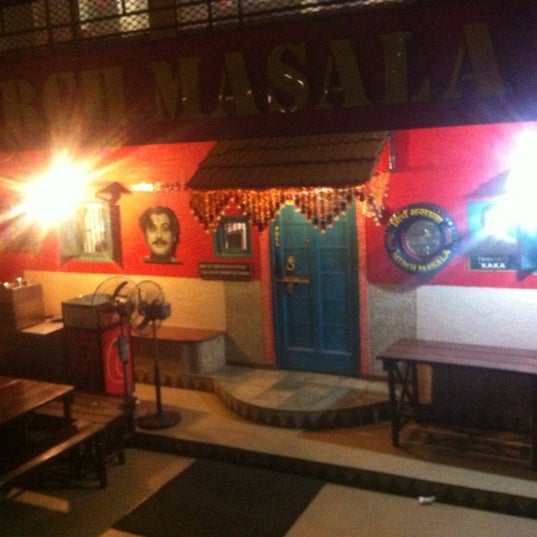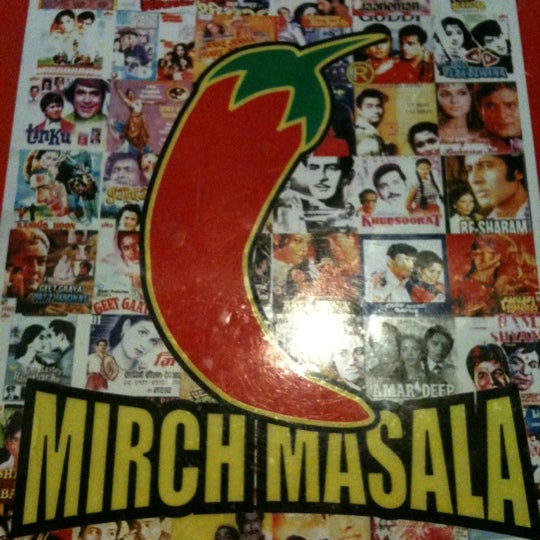 Loud colors. Kitchy walls. Truck decor. Outdoor bench seating. Flashy slogans. Filmstar faces. All MM outlets look the same. Except the Race Course circle one. Their outdoor snacks area is not only fun but also a haven for delicious Indian junk food. Chaat, Paranthas, Rabdi, Ragda Patties – you cannot choose just one. Believe me, you need to choose only one since the serving is so huge. I love their bhel. It is generously dosed with coriander-mint chutney and imli chutney (that's the way I like it). It is pretty spicy and one bowl is probably enough for two. I like to smother the spicy taste with their hot crispy jalebis. One bowl (priced at Rs. 80 till last year) contains four large jalebis.
They hold food festivals regularly. I attended their Parantha Festival way back in December 2011. Yummy thick paranthas floating in white butter. Yummm. Must visit if you are looking for hygienic street food.
Danny's Cold Coffee
I wrote about them 2 years ago. Their cold coffee is the best. Period. They started in Ahmedabad more than 2 decades ago, serving as a favorite college hangout place, and are spreading their wings to different cities. Their decor is ordinary and the shop is tucked away in a corner of a complex on the busy Jetalpur Road. I am sure, 2 years after their opening, they must be receiving heavier crowds. I believe their Maggie is great too. Try it out.
Girls, just be wary of going there after dark. Danny's sometimes witnesses rowdy men (they are sometimes friend of staff or staff themselves). Once, M was followed by some goons from Danny's.
Mandap Thaali
Express Hotel has existed in Baroda since forever. It is a part of my childhood. We lived there for a couple of days when my father visited Baroda for official work. My sister and I sat on their sankheda hichko wearing identical dresses. Later, we visited Baroda regularly for shopping and had evening snacks there. Every time my father visited Baroda for work, he would come back with Jam Cookies and 'Melting Moments' from Express. Now, I make it a point to have thaali at Mandap every time I visit home. When I lived in Maharashtra (between 2000 – 2008), I used to come home for holidays deprived of and craving for Gujarati food and my parents would take me to Mandap. Unlike most thaali restaurants, Mandap is calm, sophisticated and classy. Waiters will not crowd around you. They will not messily drop food onto your plate. They will not hover around you making you uncomfortable. They will let you in peace and nicely, peacefully ask you if you need something. The food is simply enchanting. Their Moong Dal halwa is to die for. You are lucky if they have it on their menu the day you go there.
Millennium Biryani
It's easy to miss this one. It is located in Fatehgunj, opposite Cenetary Methodist church and above Rangoli restaurant. It is an average looking place with an entrance from behind the building. This entrance may often be blocked by buffaloes or a puddle of sewage water. Dare if you may and skip these obstacles. Go up the narrow, dirty staircase, order a Chicken Biryani (with extra masala) and be instantly transported to heaven. This biryani can be matched only by Hyderabad Paradise biryani. No other.
I have fond memories of Millennium sneaking out with my work colleagues for lunch (Guys, I really miss you). We would hog on Chicken Biryani, Mutton Curry and Kheema Masala. Incredible food.
Frigtemp Kheema Frankie
Earlier known as Hot Dog, they are pioneers of original Indian fast food like hot dogs, frankies and burgers in Baroda. They are in existence since 1977. Egg tikka hot dog and Kheema Frankie are innovations you don't usually find elsewhere. Even if you do, they won't be as good as theirs. During school, I have had loads of Kheema Frankies, oil dripping all over the place due to my inexperienced grip. They also have 'English' flavours like Egg & Ham, Egg & Cheese (Amul cheese, of course) and Pork Salami Chicken Sausage Egg Cheese hot dog.
Give McD a pass and head to Frigtemp, Fatehgunj. Check out their FB page for more luscious photos.
Salsa Habanero Burrito
Chef Prakash grew up in SFO California, eating vegetarian Mexican food and developed a penchant for not just eating but cooking Mexican food too. He went back to India and opened Salsa Habanero out of passion. He lovingly cooks and serves authentic Mexican food to Barodians on weekends (take away only). I loved the food the first time I had it. I love it even after spending a year in a country where there is a Mexican food joint after every 5 miles. I have had Mexican food at chains and Mom-n-Pop shops. SH is better than most of them.
Their taste and quality is consistent. The food will never disappoint.
Pop in on weekends between 6 pm to 10 pm for yummy Mexican food. Your visit will feel more fulfilling if you chat up with Prakash and Rita.
Payal Sev Khamani
Gujarati cuisine has extravagant variety that one can never have enough of – Nasta, Farsan, Shaak, Sweets, Athanu. Even after living there all my life, I haven't tasted everything. i have lived in Maharashtra for a long time and travelled to different cities of the world but what drives me home is Gujarati food. So, like having a thaali at Mandap is mandatory for me, picking up some farsan from Payal is a must too. I invariably go there for Sev Khamani. I like their Chinese Samosa too but somehow I never get them. They are probably too much in demand.
Payal is a very old, renowned shop. They started in 1986 and have become a favourite farsan shop today. They closed down their old shop and opened a new one a couple of years back. I personally liked the older one and miss it. Of course, their taste remains the same.
– – –
There are many more legendary food options in Baroda that can satiate your palate – Mahakali Sev Usal, Raju Omlette, Vishal Samosa Sandwich, Manmohan Bhajiya, Paras Pan, Shreenath Cold Cocoa. I hope to try them on my next visit to India. They would then become my Favourite Baroda Foods II post.